7 Korean Sunscreens for Dry Skin
Sunscreen is indeed a must to protect your skin. 
However, it's vital to check whether the sunscreen you are going for is appropriate for your skin type. 
There are sunscreens that are suitable for oily skin, dry skin, sensitive skin and more. 
And if you have dry skin and are looking for the perfect sunscreen that can nourish and moisturize your skin, continue reading. 
These 7 Korean Sunscreens will be your holy grail this winter!
Why Choose Korean Sunscreen?
Korean sunscreens are popular for their innovative formulations and commitment to skincare excellence. Here's why they stand out:
Advanced Formulas

Lightweight Texture

High SPF and PA Ratings

Broad-Spectrum Protection

Dermat tested

Skin-first Approach

Zero White Cast

Innovations like Water-Resistant Formulas

Sensory Experience
This gem of a sunscreen is a 2-in-1 moisturizing Korean sunscreen that intensely hydrates and soothes irritated skin. 
With SPF 50+ and PA++++, this gives the perfect UV protection that your skin needs.
The notable ingredient here is the 8-layer hyaluronic acid, which helps to keep your skin hydrated, evens out skin tone and texture and calms irritated skin. 
Here's what it can help you with:
Dullness & Dryness

Fine Lines & Wrinkles

Irritated and Inflamed Skin

Uneven Texture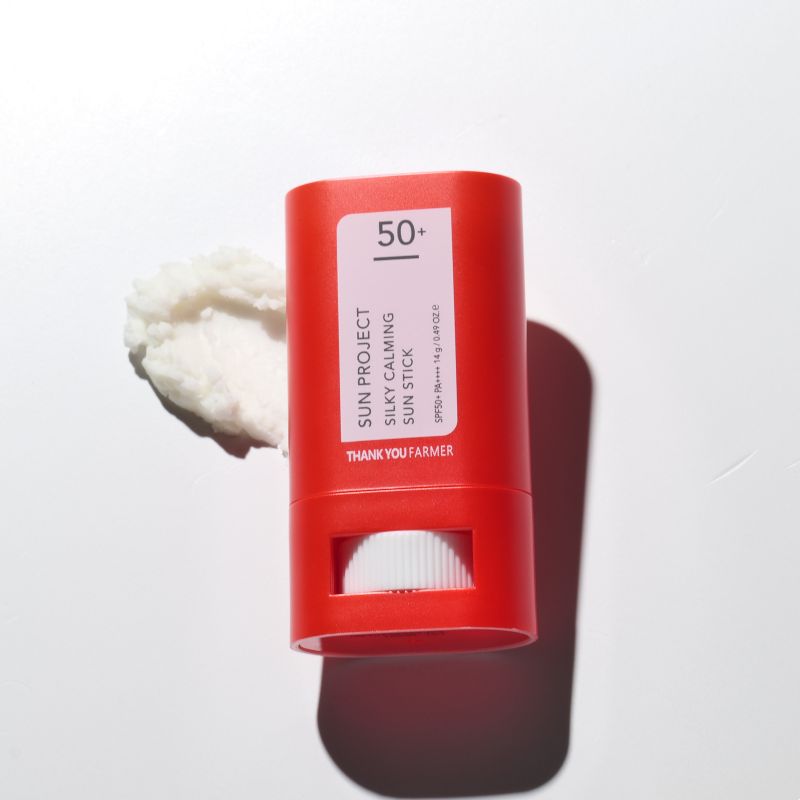 Thank You Farmer Sun Project Silky Calming Korean Sun Stick comprises a blend of moisturizing and nourishing ingredients like Centella Asiatica, calamine, Asiatic Acid, Madecassic Acid, and more. 
It's super-convenient to carry and apply and leaves no white cast, making it ideal for re-application. 
Be it over or under makeup, it's easy to apply and re-apply. 
That's not all, it provides sun protection against UV rays & blue light while keeping the skin fresh.
This can help tackle:
Irritated & inflamed skin

Fine Lines & wrinkles

Dullness & dryness
Thank You Farmer Sun Project Water Sun Cream is excellent in fighting UV rays, all thanks to the SPF 50+ and PA+++ ratings. 

Rich in Hyaluronic acid, this sunscreen has excellent moisturising properties!

Also, the presence of Fructan hydrates & prevents moisture loss from the skin. 
Reasons why your skin will LOVE the Water Sunscreen:
Suitable for dry/normal skin

Zero white cast

Phyto-Oligo Oil helps soothe inflamed skin

Bamboo Water, a powerful antioxidant, fights skin-damaging free radicals

Vitamins A & E strengthen the skin barrier
Thank You Farmer Sun Project Shimmer Sun Essence is an all-rounder. 
 It is a sunscreen, moisturizer, skin tone corrector, and makeup base. 
It comprises effective ingredients like Plukenetia Volubilis Seed Oil, Aloe Extract, Vitamin E and more. 
What's more, its micro pearls even our skin tone for a smooth luminous finish.
 Here are its advantages:
Brightens and evens out skin tone

Pink micro-pearls give a glowy finish

Doubles up as a moisturizer

Vitamin E reduces redness

No white cast

Suitable for all skin types

Eliminates moisture evaporation, all thanks to the African Walnut Oil it contains
This one is a cool, easy-to-apply and non-sticky Korean Sunscreen that soothes and calms dry skin. 
This particularly works like a charm over and under makeup.
Also, it hydrates, cools & improves 171% of damaged skin.
It helps with issues such as: 
Irritated & inflamed skin

Fine Lines & wrinkles

Dullness & dryness
Other highlights:
Sheer, satin finish

Doubles as a primer

Glides easily under/or over makeup

Quick & convenient to use

Patented cooling & soothing ingredients
This is yet another sunscreen that can visibly reduce pores and blemishes. 
The Hyaluronic acid and Glycerin it contains work together to hydrate skin and reduce fine lines and wrinkles. 
Also, its cushion form makes it easy to apply and reapply. 
Advantages in a nutshell:
Covers pores and blemishes.

Brightens skin.

Reduces redness.

Provides broad-spectrum protection with SPF 50+ and PA++++.
Just like Dewytree Urban Shade Cushion Sunscreen, this sunscreen contains Hyaluronic Acid and Glycerin, which moisturizes and hydrates your skin, making it a perfect sunscreen for dry skin. 
Here are its specialities:
Covers your skin evenly

Protects skin from harmful UV rays

Its thin and silky textures make it easy to apply and make your skin glowy

It has a natural finish
The Bottom Line
So, these are the Korean sunscreens perfect for dry skin. All of them are available at Skin Bae in their genuine form. Before you zero in on one sunscreen, make sure to check the details in detail so that you can ensure you are buying the right one.

If you need any assistance in choosing a sunscreen, feel free to contact us.