Step-by-Step Guide To Korean Skincare Routine
If you've ever envied the flawless and radiant complexions of K-beauty enthusiasts, you're not alone. The Korean skincare routine has taken the world by storm with its multi-step approach and focus on achieving healthy, glowing skin. 
Whether you're a skincare novice or a seasoned pro, this comprehensive guide will walk you through each step of the Korean skincare routine, with product suggestions to help you achieve that coveted K-beauty glow.
Let's dive in!
Step 1 - Use an Oil-Based Cleanser
Begin your skincare ritual with an oil-based cleanser to effectively remove makeup, sunscreen, and impurities. 
Benefits
Removes makeup, sunscreen, and impurities effectively.

Dissolves oil-based impurities, leaving skin clean and fresh.

Prevents clogged pores and breakouts.

Ideal for the first step of the double cleansing method.
Product Suggestion: Dewytree Hi Amino All Cleansing Oil is a perfect choice. 
 How To Use
Apply a small amount of oil on dry skin.

Gently massage in a circular motion to dissolve makeup, dirt, and impurities. 

Emulsify with water and rinse thoroughly for a clean and refreshed complexion.
Step 2 - Water-Based Cleanser
Follow up with a water-based cleanser to ensure a thorough cleanse. This gentle formula eliminates any remaining debris while maintaining the skin's natural moisture balance.
Benefits
Thoroughly cleanses the skin of remaining dirt and sweat.

Maintains the skin's natural moisture balance.

Prepares the skin for the subsequent skincare steps.

Ensures a clean canvas for further product absorption.
Product Suggestion: Rovectin Skin Essentials Conditioning Cleanser
 How To Use
Dispense an appropriate amount onto wet palms.

Lather, and massage in a circular motion onto your face. 

Rinse with lukewarm water to ensure your skin is free from any residue.
Step 3 - Exfoliate Your Skin
Exfoliating your skin is crucial to remove dead cells and promote a brighter complexion.
Benefits
Delicately exfoliates the outer layer of the skin, eliminating dead skin cells.

Improves skin texture and promotes cell turnover.

Enhances the effectiveness of serums and moisturizers.

Leaves skin smoother and more radiant.
 Product Suggestion: Advanced Activating Treatment Lotion
How To Use
Following the cleansing step, dispense a small quantity onto a cotton pad or directly onto the skin.

Step 4 - Apply Toner
Hydrate and balance your skin with toner. This helps refine pores and prepares your skin to absorb subsequent products more effectively.
Benefits
Balances the skin's pH levels after cleansing.

Provides hydration and prepares the skin for subsequent steps.

Helps with better absorption of serums and essences.

Soothes and calms the skin.
Product Suggestion: Dr. Different Scaling Toner for Normal/Dry Skin
How To Use
After cleansing and exfoliating, dispense the toner onto your palm or a cotton pad.
Pat it onto your face to balance and hydrate your skin.
 Step 5 - Essence
Integrate this step into your routine for enhanced hydration and skin repair. Essence revitalizes your skin's texture and appearance.
Benefits
Delivers a concentrated dose of nourishing ingredients.

Supports skin regeneration and repair.

Improves skin elasticity and firmness.

Enhances overall skin radiance.
How To Use
Apply a few drops onto your palm.
Gently press it onto your face.
This essence helps to soothe and revitalize your skin.
 Step 6 - Use a Serum
 Serum addresses blemishes and uneven texture, providing a boost of nourishment to your skin.
Benefits
Targets specific skin concerns such as blemishes and acne.

Provides a potent dose of active ingredients.

Helps in diminishing hyperpigmentation and promoting a more even skin tone.

Enhances the skin's natural barrier function.
Dispense a small amount and apply it evenly onto your face.

Focus on areas with blemishes or uneven texture. 

Gently pat until absorbed.
Step 7 - Put on a Sheet Mask
Sheet masks infuse your skin with moisture and nutrients, leaving you with a refreshed and rejuvenated complexion.
Benefits
Intensely hydrates and revitalizes the skin

Provides a quick boost of nutrients and moisture

Leaves the skin plump, refreshed, and glowing

Perfect for a pampering self-care session
Product Suggestion: Dewytree Pick and Quick Hydrating Mask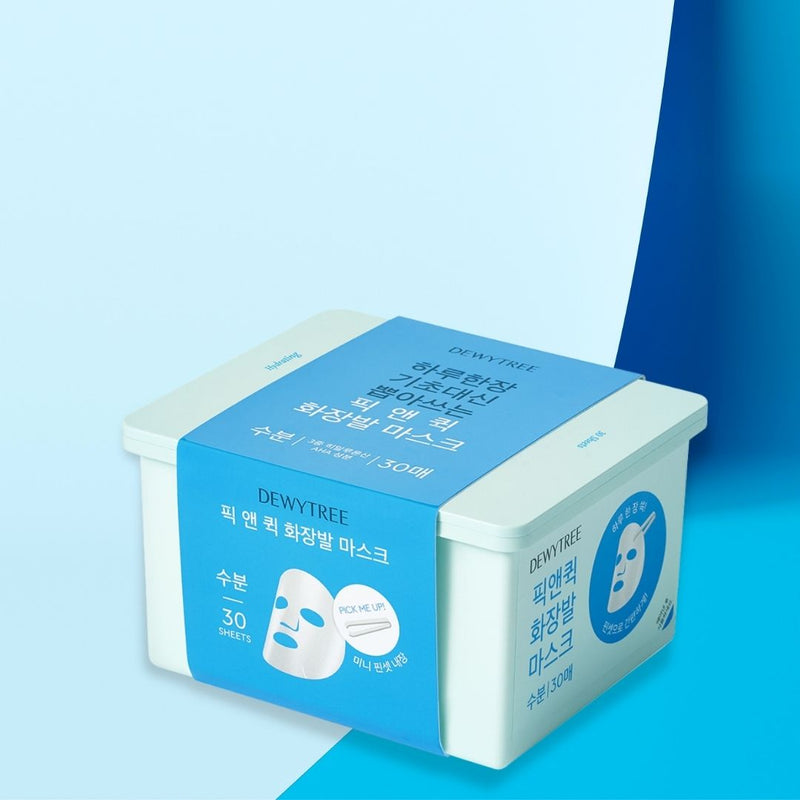 Unfold the sheet mask and then gently apply it to your face. 

Leave it on for the recommended time.

Then remove and gently pat any remaining essence into your skin.
Step 8 - Use an Eye Cream
Eye cream helps reduce puffiness, dark circles, and fine lines, ensuring your eyes look revitalized and youthful.
Benefits
Addresses the appearance of fine lines, wrinkles, and puffiness in the eye area.

Hydrates and nourishes the delicate under-eye area.

Reduces the appearance of dark circles and fatigue.

Helps achieve a more youthful and refreshed look.
Product Suggestion: Dewytree Heartleaf 100 Eye Cream
How To Use
Take a small amount and gently tap it around your eye contour using your ring finger.
Step 9 - Moisturize
Seal in moisture that offers lightweight hydration and nourishment. This dual-function product leaves your skin supple and hydrated throughout the day.
Benefits
Locks in moisture and prevents water loss.

Provides essential hydration to the skin.

Supports skin barrier function and repair.

Leaves the skin soft, supple, and well-nourished.
Product Suggestion: Rice Pure Gel and Cream
How To Use
Apply an appropriate amount onto your face and neck.

Massage it in for hydration and nourishment.
Step 10 - Protect Your Skin with Sunscreen
Complete your routine with sunscreen that provides protection against harmful UV rays and environmental stressors. Shielding your skin from the sun is essential for a healthy complexion.
Benefits
Shields the skin from harmful UV rays and pollution.

Prevents premature ageing, sunburn, and hyperpigmentation.

Maintains the skin's health and prevents damage.

Essential for maintaining a youthful look.
Product Suggestion: Dewytree Urban Shade Anti-Pollution Sun SPF 50+ PA++++
 How To Use
Apply a generous amount to your face and any exposed areas before sun exposure. 

Reapply throughout the day as needed.
Conclusion
Incorporating the Korean skincare routine into your daily regimen can transform your skin and elevate your self-care routine. Follow these ten steps and use the suggested products to be well on your way to achieving the coveted K-beauty glow.